DKA National Office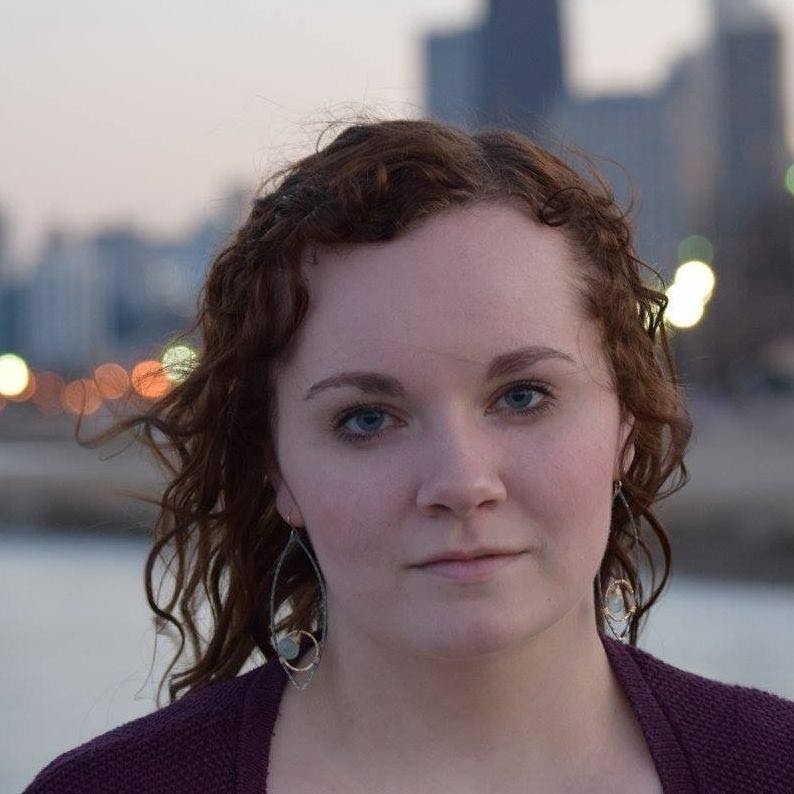 Emily Dunn
National President
Emily (she/her) is originally from Akron, Ohio and is one of the founding members of DKA's first chapter in the Midwest, Tau Chapter at DePaul University in Chicago. While at Tau, Emily served as the inaugural Cinematic Affairs chair, Recruitment chair, and Interchapter chair. She is currently based in Los Angeles, where she works for Mob Scene Creative Productions. Before Mob Scene, she worked as an assistant at a Commercial talent agency for two years. Outside of film and TV, Emily is passionate about helping others, spending time outdoors, creative writing, music, craft-arts and "consuming ADHD Content"/things that make her brain go "brrrrr." She serves as the National Counselor for Epsilon, Omicron, and Tau chapters, along with Omega Colony, and began her term on NC at the end of 2021. Before becoming a counselor, Emily served NC as the Virtual Coordinator.
Fun Fact: Emily shares a birthday with Jim Jarmusch, Lord Byron, and Guy Fieri.
Michelle Yee
National Vice President
Born in Hong Kong and raised in Shanghai, Michelle graduated from Boston University with a dual degree in Film & Television and Mass Communications with a concentration in Advertising. She joined the Beta chapter in the Fall of 2016, and served two terms as risk management, Sergeant-at-arms, and finally President during the Spring 2020 term. Michelle joined the National Council in August 2020 and is currently completing her Master's Degree in Producing & Writing in TV. 
Allie Cohen
National Past President
An Arizona native, Allie graduated from Chapman University with a degree in Creative Producing. She served as the Zeta chapter president during the 2016-2017 school year. After graduation, not knowing where her career would take her, she did what many graduating film students are told: start at an agency. Allie began as a mailroom clerk at Creative Artists Agency and soon went to work in the scripted television department. In January of 2020, she transitioned to department coordinator and has become incredibly passionate about advocating for and championing emerging writers and directions. Allie attributes much of her success to her time in Delta Kappa Alpha, and continues to dedicate her time to the organization serving as the National President. When she's not working or focusing on DKA, you can find her binging TV shows and snuggling her Pit Bull Harlowe.
Ian Donovan Hyland
National Councilor 
Born in New York City's East Village, Donovan graduated from Chapman University in 2017 with a degree in Television Writing and Production. He joined Zeta chapter in 2016 and became a very active member, serving as his Pledge Class President and the chapter's Culture chair. Donovan has worked, post graduation, as a Theatre Technician and House manager at the Pico Playhouse in Los Angeles, as well as on productions for various commercials, music videos, and creative productions. Most recently, Donovan is working as a Covid Compliance Officer on several productions in and around Burbank. He joined the National Council in January of 2020, and has been working tirelessly to help produce more value for DKA's membership ever since, creating the Assay Film Festival.
Allison Silberberg
National Councilor 
Allison (she/her) is originally from Westchester, NY, and graduated from Boston University with a degree in Film & Television. She proudly served as President for Beta Chapter and joined the National Board in 2018. She is now in graduate school at the Royal Academy of Dramatic Art in London studying Costume Making and Design. She is incredibly passionate about exploring the power of aesthetics for storytelling and how understanding various cultures & societies, both past and present, can create the most authentic representation of the human experience through art. In her free time, she can be found curating her Instagram filled with photos of pink outfits, vintage inspiration, and handmade dresses. 
Brandon 

Garnsey


National Councilor
Brandon (he/him) got his first taste of the DKA experience in Zeta Chapter, Chapman University, when he met a group of welcomingly creative individuals who then changed his life forever. From his Freshman year through Senior year he has held 12 executive and admin positions, Pledge Education, Historian, and Programming being his favorite. Upon graduating in 2020 with a BFA in Broadcast Journalism and Television and a minor in Media, Culture, & Society, he felt that his DKA experience wasn't over and continued on through the pandemic as a National Councilor. He serves as a fresh voice for those who have experienced what this organization was like during Covid-19 and as a member of the LGBTQIA+ community. Brandon has dove deep into the new media industry and helps to expand our entertainment industry perspective beyond traditional TV/Movie genres. He currently works as a Lead Producer and Assistant to creator and host, Nick Uhas. He's absolutely fueled by Reality TV, being a Libra, and Star Wars!!


Aaliyah Weathers
National Councilor
Originally from Atlanta, Georgia, Aaliyah graduated from University of Miami in 2019, double majoring in Journalism and Motion Pictures with a minor in Music Business and Entertainment Industries. Aaliyah became a Deka as a first semester freshman and eventually went on to serve as president of the Xi chapter. Aaliyah now lives in Los Angeles working in film and television development at Chernin Entertainment. As a member of the national council and beyond, Aaliyah is passionately and focused on equity and inclusion and is committed to giving a voice to our members of marginalized communities. In her free time she can be found exploring all genres of music and deepening her astrology practice.
Alyssa Jacoby
National Councilor
Originally from Montauk, New York, Alyssa graduated Ithaca College with a B.F.A. in Film, Photography and Visual Arts. She joined the Pi Chapter of DKA in Spring 2018 where she served as Associate Education Officer and Recruitment Chair for two semesters, and Associate Education Secretary, Alumni/Abroad Relations, Marketing Chair, and Screenwriters Circle for one semester. Alyssa is currently living in New York City where she is doing freelance film production work and traveling back to her hometown to volunteer with Hamptons Film Festival, Montauk Film Festival and Offshore Art & Film Festival. 
In her new position as National Councilor, Alyssa hopes to focus on updating the TROT program and being a welcoming resource for our chapters. She is looking forward to serving on National Council and getting to know more DeKAs! 
Sydney Gold

Originally from Long Island, NY, Sydney graduated from University of Miami with a degree in Motion Pictures and Psychology, where she served as president of the Xi Chapter. She graduated in May of 2018, and then went on to attend Brooklyn Law School to get her JD, during which time she served on National Council as a National Councilor, eventually being elected as National Vice President. She has since graduated law school and is currently awaiting licensure to practice law, during which time she is exploring all the legal field has to offer. Sydney currently lives in Manhattan, NY, practicing worker's compensation law, and has aspirations of expanding her mother's legal practice into a larger firm. 
---
 Directors
Cory Darling
National Alumni Director 
Born in Newport Beach, California, Cory did her undergrad at UC Berkeley and majored in Film & Media. She then received her M.F.A. at Chapman University in Film Production with an emphasis in editing. As a member of the Eta founding class, she served one year as Social Chair, and served one year as Interchapter Chair during her time at Zeta. After graduating, she landed her dream job as a TV promo editor and currently works in Seal Beach for a company called Fresh Cut Creative. In her free time, she is an avid Taylor Swift fan :)
Hannah Geller
Communications Chair
Hannah Geller is a writer, producer and all around creative. She has spent the last seven years working with Film Independent on a variety of programs and productions that support independent filmmakers and stories, such as the SPIRIT AWARDS, the LOS ANGELES FILM FESTIVAL, and GLOBAL MEDIA MAKERS. Currently she is working on the inaugural year for the THUH FILM FESTIVAL, which focuses on building a community around young talent and ideas often left in the margins. As her career furthers, her goal is to create and support content that explores themes of feminism, mental health, adulthood/coming of age, and self identity.
In her role as Communications Chair, Hannah combined her passions for design and supporting young talent with her love of DKA. In the time she has held the position she has focused on building the Alumni Committee's social presence, branding, and community outreach.
Hannah joined DKA's Zeta Chapter at Chapman University, where she graduated Magna cum Laude in 2018 with a degree in Television Writing and Production and a minor in Women's Studies. In her free time you can find her dreaming up stories for young adult novels and checking out new local artists.